Dr. Richard R. Alexander - In Memoriam
Richard Alexander, Chair of the Department of Geological, Environmental, and Marine Sciences, died tragically as the result of a swimming accident on Monday, December 11, 2006 while vacationing with his wife, Jeannie, in St. Lucia.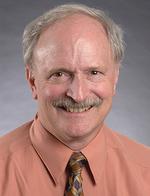 Dr. Richard Alexander received his doctorate from Indiana University in 1972 and held the rank of Professor at the time of his death. His Ph.D. dissertation concentrated on the correlation of shape and growth changes in clams and sand dollars from Pliocene age sands in California. In addition to his teaching responsibilities at Rider, Alex was Department Chair until his death and was Assistant Dean for Science for the College of Liberal Arts, Education, and Sciences until 2006. Alex taught marine science and biology courses at the Oregon State University Science Center, Yaquina Bay and at the marine laboratory at Puerto Penasco, Gulf of California, jointly operated by the University of Arizona and the Universidad de Sonora. He also spent a research leave at the Dunstaffnage Marine Biological Station near Oban Scotland studying clams. Alex's research interest focused on the functional morphology of, and substrate influence on, shape, distribution, and behavior of brachiopods, clams, and echinoids. Recently, Alex had been appointed to the Board of Directors of the Natural Resource Education Foundation of New Jersey, an educational consortium that operates the Lighthouse Education Center on Barnegat Bay, a marine field station where Rider maintains facilities.
Primary Teaching Responsibilities:
Field Marine Science
Statistical and Computer Applications in the Natural Sciences
Marine Ecology
Marine Life Through Time
Selected Publications:
Survival and repair of surgical and natural damage in the articulate brachiopod Terebratulina retusa. Historical Biology.
Influence of sediment grain size on the burrowing of bivalves: corrleation with distribution, and stratigraphic persistence of selected Neogene clams. Palaios.
Eccentricity in the clypeasteroid Dendraster : environmental significance and application in Pliocene paleoecology. Lethaia.
---