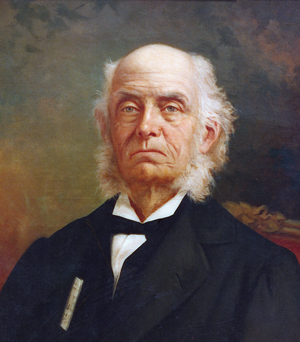 Rudolph Amandus Philippi was born in Berlin-Charlottenburg, Germany, on 14th September 1808. His mother, Maria Anna Krummwiede, worried delivering a good education at an early age sent him with his brother to Yverdon, Switzerland, in the establishment of the renowned Swiss philosopher and educator Pestalozzi. Later, Philippi acquired the degree of Doctor of Medicine at the University of Berlin. His doctoral thesis was on Orthoptera berolinensia (Diptera) in 1830. During the visit to Southern Italy 1831-1833, he made important scientific works on geology, mollusks and brachiopods in the Mediterranean and southern Italy. Back in Germany in 1835, he became a position of professor and researcher at the Polytechnic Institute in Kassel. He married Fredericka Luisa Karolina Krummwiede on 1st January 1836. Following health problems (tuberculosis), he returned to Italy from 1837 to 1839, with his wife to Naples, where their eldest son Federico (Friedrich) was born; this later (1838-1910) was a famous Chilian botanist.
Europe was going through a time of political and social unrest. Disappointed by the failure of the revolution of 1848, and persecuted because of his republican and liberal ideals, Philippi becomes convinced to emigrate in 1850 in the New World. He arrived in December 1851 in Valdivia, Chile, where he was hired as professor of German. In 1853, he becomes the position of director of the Museo Nacional de Historia natural in Santiago, as well as professor of botany and zoology at the University. Already installed, his family moved in 1854 with his library and scientific collections. Philippi devoted his long life to scientific research, with great rigor. His contribution was fundamental in the development of the scientific research in Chile, covered a wide range of natural sciences. Philippi described about 1,600 valid species, among them about 6 % of the recognized biological diversity for Chile; his greatest contributions in Chile were done in vascular plants (see references below). About 450 scientific papers were published, in several languages. He spoke a perfect English, French, German, Italian, Greek, Latin and Spanish. Asking and answering himself, on the following question: "¿Que es lo que hace Philippi? Caza moscas, las observa a través de una gruesa lente, y las dibuja en un papel. Así de extraño resulta el modo en que algunos se ganan el pan de cada día " (What's doing Philippi? Hunting flies, looking them through a thick lens, and drawing on paper. So what is strange is the way for some to earn their daily bread). R. A. Philippi passed away on 23th July 1904 in Santiago (Chile).
---
References
---
Some publications dealing with Mediteranean marine fauna
Nota

: for a complete list of Philippi's publications, see Barros Arana (1904), Gotschlich (1904), Follmann (1970).
---
Links
---
Our best thanks to Maria Teresa Eyzaguirre-Philippi Fundacion R.A. Philippi de Estudios naturales for the permission to publish both photos.
Maria Teresa (1952) es la hija de Jaime Miguel Eyzaguirre Gutiérrez (1908-1968), abogado e historiador chileno, el principal representante de la corriente historiográfica católica en su país. Su madre Adriana Paulina Philippi Izquierdo es descendiente directo de Rodulfo Amando Philippi (vease su genealogía).
The collection de R. A. Philippi is housed in the Museo Nacional de Historia natural, Santiago (Chile)