Cancellothyris hedleyi (Finlay, 1927)

Type locality: "Westaustralien" [W Australia]
Depth range: 6 - 366 m

Terebratula cancellata Koch, in Küster, 1843
Terebratulina cancellata Davidson, 1886
Terebratulina hedleyi Finlay, 1927
Cancellothyris australis Thomson, 1927

Diagnosis in preparation -

Should be added:
Pedicle characteristics: short, with rootlets radiating from its shaft at the level of the foramen rim; thick outer layer of chitin with long branches or rootlets terminating in holdfasts (both features as in Terebratulina retusa).
Muscle disposition: see Fig. in front - dorsal adjustor muscles paired with double attachments to both dorsal valve and pedicle.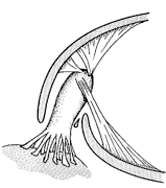 Disposition of the pedicle and pedicles muscles - sagittal section
(from Richardson, 1979)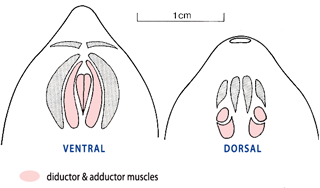 Muscle attachment (from Richardson, 1979)