Gryphus vitreus (Born, 1778)
Type locality: Port-Mahon, Minorca (Spain)
Depth range: 78 - 2678 m
Anomia vitrea (Born, 1778) p. 104
Terebratula vitrea var. minor Philippi, 1836, p. 99
Terebratula vitrea: Jeffreys, 1878, p. 403
Liothyris vitrea: Davidson, 1886, p. 6
Liothyrina vitrea: Fischer & Œhlert, 1891, p. 51
Gryphus vitreus : Dall, 1920, p. 311 (includes varieties elongatus Jeffreys and dilatatus Jeffreys)
Eurysina minor: Cooper, 1983, p. 259

Original Diagnosis - Born (1778, p. 104-105)
Testa ovata convexa lævi, valvae alterius apice incuruato pertuso, margine intergerrimo.
Description - Logan (1979)
Adult shell commonly reaching dimensions of over 30 mm length. Shell elongate-oval in outline, strongly biconvex, almost white in colour, smooth except for concentric growth lamellae, semitransparent, punctate. Anterior commissure rectimarginate to slightly uniplicate. Foramen large, epithyridid, with pedicle collar. Ventral short, massive, with short hold-fast papillae. Delthyrium closed by small concave symphytium, slightly upraised at the centre.
Loop of dorsal skeleton extends about one-quarter of length of brachial valve, attached by short crura to hinge plate, crural bases extending along inner margins of slightly concave outer hinge plates ; no inner hinge plates. Discrete crural processes present. Descending branches of loop slightly diverging, transverse band ventrally arched at the centre. Cardinal process small, slightly concave. Hinge teeth excavated by posteriorly-placed socket. Small oval-shaped muscle impressions in both valves, interiors of both valves with prominent grooves for reception of mantle canals, four in each valve, which branch and rejoin near the shell margins. Lophophore plectolophous, spicules abundant.
---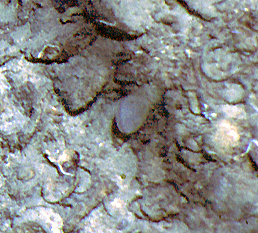 Gryphus vitreus in a Venus casina thanatocœnosis at 180 m depth - © photo C. Emig