Murravia exarata (Verco, 1910) in Blochmann (1910)

Type locality: off Beachport, South Australia, at 274 m.
Depth range: 73 - 274 m.


Magasella exarata Verco, 1910 in Blochmann (1910, p. 97).

Diagnose - Blochmann (1910)


Shell small, solid, oval, compressed dorso-ventrally, white. Dorsal valve nearly flat, with a shallow median furrow widening anteriorly; slightly convex longitudinally and transversely ; lateral margin sinuous, convexo-concave from behind, and convex in front to correspond with the median sinus. Ventral valve twice as deep as the dorsal, uniformly convex longitudinally. Beak projecting considerably beyond the hinge line, solid, slightly curved dorsally. Foramen triangular, completed in front by the dorsal valve, rounded behind, and not extending to the end of the beak; bounded at the sides by a solid, stout, low lamina. Sculpture, numerous axial diverging riblets, increasing by intercalation, with concentric riblets, somewhat irregular in size and distance. Border internally plicately toothed. The hinge teeth in the ventral valve are very low and small and tubercle-like. In the dorsal valve the laminae on the inside of the tooth sockets are prominent and solid. From the anterior end of their bases two short stout processes project forwards ventrally, and converge without uniting. Two low ridges also extend forwards on the wall of the valve from the bases of the laminae, and unite just in front of its centre, and continue as an obsolete ridge to the front margin.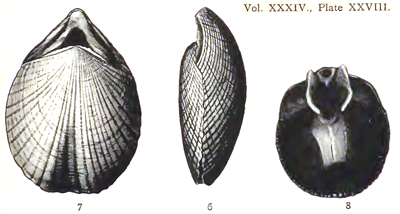 [agrandir]
Facsimile of Murravia exarata in Plate XXVIII of Blochmann (1910).