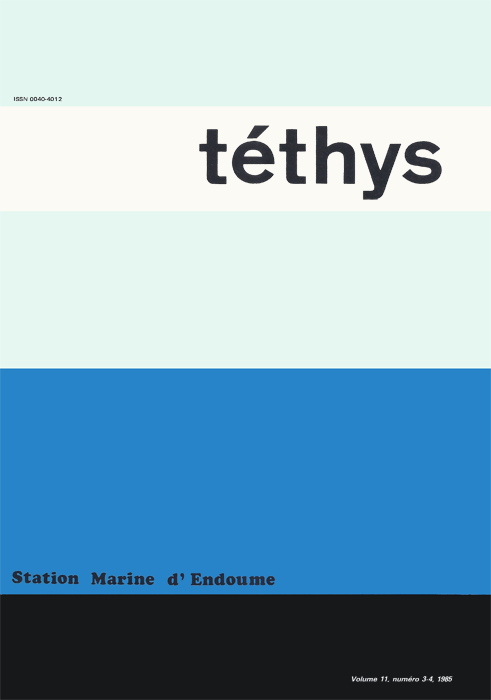 Téthys (Marseille) 1969 - 1985
| | | |
| --- | --- | --- |
| [scanned by Zibrowius H. en 2013] | | |
Tethys has become a scientific journal [*] of international audience despite his status of lab journal - that was not considered, in France, as sufficient to claim the international level, particularly by the CNRS (Centre National de la Recherche Scientifique). Moreover, other famous journals of French marine laboratories, like Cahiers de Biologie marine (Roscoff) and Vie et Milieu (Banyuls) underwent the same Franco-French bashing although all three journals had acquired an excellent reputation not only in France, but worldwide.
While their marine labs supported the two latter journals, the new director of the Station Marine d'Endoume, succeeding J.M. Pérès and C.C. Emig, abandoned Tethys. He argued that new research topics are developed and consequently the publishing of a journal in marine biology has no need.
The last edition of Tethys is number 3-4 of the volume 11 (1985): a Tribute to Professor Jean-Marie Pérès . Its cover is represented above. Clicking on, you can read and download the first pages of this issue, with the dedication of Jean-Marie Pérès to Christian C. Emig. This volume announced also the future disappearance of the Station Marine d'Endoume, end of 2011.
[*] Tethys has been replaced by Recueil des Travaux de la Station marine d'Endoume (Marseille), issued from 1949 to 1969.
---
Complete Content and articles in PDF - open access
---