Lingula submarginata d'Orbigny, 1850 (pro Lingula marginata d'Orbigny, 1842: p. 28, Pl. 2 fig.5; non Phillips, 1836): p. 14; Lingula lineata Hoek, 1912, in Steinman & Hoek, 1912: p. 232; Dignomia boliviana Emig, 1996, in Gagnier et al. (1996): p. 338, Fig. 6.
Holotype: none. Syntypes a dorsal and a ventral valve from Zudáñez (= Tacopaya), Chuquisaca region (MNHN R06654).
Other specimens: MNHN A24313 = Cerro San Pedro in Cochabamba (17°23'45"S, 66°07'40"W); MNHN A24314 = Cerro Chakeri, Puntata Province, north of Sacabambilla (17°30'00"S, 66°47'58"W).
A large collection from Cerro San Pedro in Cochabamba Ciudad is also housed in the "Museo de la Universidad de Zaragoza".
Type horizon: Middle/Late Ordovician, Caradocian or Llanvirnian - Llandeilian.
Diagnosis - (Emig & Herrera 2006) including the figure in front
The outline of the shell is an elongate oval. Two large medio-lateral grooves, longitudinally striated, extend from the umbonal region to the anterior margin of the valves; a median groove is narrow. On the outer surface of the dorsal valve is a median groove that occupies its whole length. On the ventral valve, the groove extends from the anterior margin to about the half to two-thirds of the length.
Anterior margin straight, without indentation at the level of the grooves. Lateral margins subparallel; width of the shell largest at or above the middle; surface smooth with numerous weak, occasionally well-marked, growth lines. Umbonal region rounded on dorsal valve, pointed on ventral valve. Small proparea slightly curved with a weak pedicle groove, continuous with internal valve side. The ventral lophophoral cavity occupies approximately 36 % of the length of the valve. Mantle canals curved. A pair of narrow subparallel, V-shaped, grooves extend from the anterior adductor scars to the unpaired posterior adductor scars; three long oblique internal muscles; a V-shaped perimial line.
No internal observation of dorsal valve.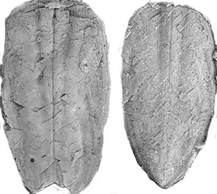 Dorsal & ventral valves

Ventral valve