Annuloplatidia curiosa Bitner, 2014

Type locality: Seamount SE of Tahiti, station DW 3298, 340 m [18°20'S, 148°33'W]
Depth range: 225 - 781 m

Platidiidae gen. & sp. indet.: Campbell and Fleming, 1981, p. 151–153, fig. 24–36.
Megerlia echinata: Laurin (1997), p. 452-453, fig. 38-39.
Megerlia truncata: Bitner (2007), p. 496-498, fig. 3I, J; Bitner (2008), p. 451, fig. 19D, E.

Diagnose - Bitner (2014)


Large Annuloplatidia with irregular outline and ventral valve covered with 15-20 beaded ribs. Foramen large, transversely oval, amphithyrid. Teeth hooked with dental plates. Short ventral median ridge present. Inner socket ridges short but high. Crura short, descending branches wide, attached to ascending branches that are connected by a transverse band.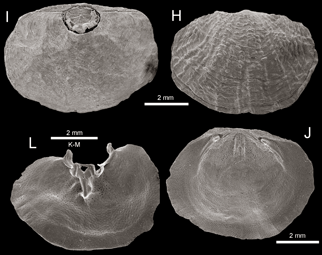 from Bitner (2019)