Platidia anomioides (Scacchi & Philippi, 1844 in Philippi 1844)
Type locality: Sicily [*]
Depth range: 8 - 2289 m
Orthis anomioides Scacchi & Philippi, 1844
Terebratula appressa Forbes, 1844
Platidia anomioides Costa, 1852
Platydia anomioides Costa, 1852
Morrisia anomioides Davidson, 1853
Platidia davidsoni (Deslongchamps, 1855)
Platidia marionensis Cooper, 1981
Amphithyris sp Simões & Kowalewski 2000
Amphithyris sp Simões 2000
? Platidia concentrica Zezina, 1980
Terebratula seminulum Philippi, 1836 [**]
Diagnosis - (Álvarez & Emig, 2005)
Concha blanquecina o marrón claro, más o menos translucida, subrectangular, de casi circular a transversalmente ovalada, plano o cóncavo convexa, Valva dorsal más o menos irregular. Internamente, la valva ventral posee unos dientes cardinales pequeños y un septo medio corto y grueso, que se extiende aproximadamente 1/6 de la longitud de la valva, La valva dorsal carece de proceso cardinal; ramas descendentes del braquidio completas y ramas ascendentes, divergentes y muy cortas, surgiendo de! ápice del septo medio.
[*] Type locality of P. davisdoni: off Tunis (Tunisia), synonym described by Eudes-Deslongchamps (1855, p. 443).
[**] or of Joania cordata - Type locality: Trapani, Sicily, Italy.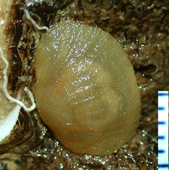 South of Malta (Mediterranean Sea):
st. 29, Medicor cruise, R/V Urania, 473-453 m, 35°30'50.91N, 14°06'22.3E.
© H. Zibrowius