Gwynia capsula (Jeffreys,1859)
Type locality: Gwynia was described by King (1859) from a specimen collected by Jeffreys at Etretat (Normandy, France), while G. capsula was described by Jeffreys (1859) from a collection recorded in Belfast Lough, name of Belfast Bay (Ireland).
Depth range: 10-46 m.
Gwynia capsula (Jeffreys,1859), p. 43

No Diagnosis -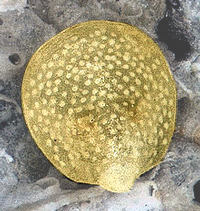 Gwynia macrodentata Lüter, 2008
Type locality: Moore Seamount, Station 13: depth 1605-1865 m, 40°25.202'S, 179°26.816'W
Depth range: 1605-1865 m
Diagnosis (Lüter,2008, p. 318)
Very small brachiopod, about 1.5 mm shell length, slightly larger than Gwynia capsula. Trocholophous lophophore with highly spiculated connective tissue. Ventral valve with massive, two- lobed teeth and broad, rather flat median septum. Shell semi-transparent, light brown, densely punctate. Short but sturdy pedicle, with both valves forming the pedicle opening.