Neoancistrocrania norfolki Laurin, 1992 - type species
Type locality: Norfolk Ridge (France) - CHALCAL II Cruise: st. DW 78, 23°41'3S, 167°59'6E, 233 m.
Depth range: 100 to 619 m.
Original Diagnosis Laurin (1992)
Craniidae characterized by the great development of the ventral valve and by the occurrence of a reduced median septum and shelly processes in the dorsal valve. The anterior adductor muscles and brachial elevator muscles are inserted on these processes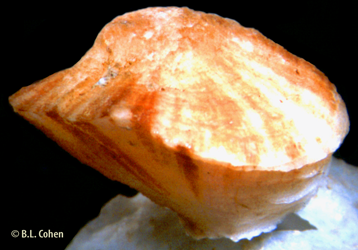 Neoancistrocrania norfolki (height ca. 2 cm) dredged from a seamount on the Norfolk Ridge, 2001 (New Caledonia, France). © B. L. Cohen.