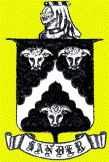 Finding a centrally located apartment in Madrid proved difficult so we took a less than satisfactory one on the the sixth floor of a building that had a basement garage with attendants to service the car. It had been repaired by welding back the broken end of the bumper and straightening the fender. I settled into the now familiar routine of acquiring data and preparing it for a report. Reading Spanish proved less difficult than Italian and Georgia, because of her work at the Sorbonne and in Spain itself while acquiring her diplomas in the language, was more than helpful. I found a doctoral candidate in geology, Jose Fuster y Casas, who collated lists of references and helped me obtain them through his university contacts, an elderly English lady who was a top-flight typist, and a draftsman of more than average skill. Work progressed well, but New York wanted the report completed in a hurry. One day I had a call to inform me that an assistant, Dick Zoerb, was on the way.
For a time his aid was minimal, for he spoke and read Spanish with difficulty, and as he adapted to the rhythm of life in Madrid he often dozed the morning away after a long night. But when an order came through that I was to accompany a lawyer, Mr Palmer, to Teheran, his presence was invaluable when I became airsick on a reconnaissance flight over the Qum basin. That trip to Iran merits more space. A wildcat at the edge of the Qum basin had blown out and flowed unchecked with tremendous pressure and volume for a long time. When we two geologists visited Qum the well had been capped, but crude had rained for weeks over a large area. Makeshift catchments had been bulldozed but the ponds formed had only begun to be drained. My job was to get information on the well and the prospects of the area. In visits to the Iranian Oil Company offices I managed to copy logs of the well in question and several others. They provided the bases for a report that led to a letter of congratulations from Chris Dohm.
Mr. Palmer was aided by an imtermediary, the husband of the shah's current mistress, but it took a long time to arrange an interview with the Prime Minister, partly because of the New Year (New Roos) holiday. We went by auto over the Elburz ranges to the Caspian where we only waded, for it was winter and the water was cold. When the interview finally took place it was fortunate that I was allowed to attend for the Prime Minister refused to talk anything but French. I had the burden of presenting amendments to the proposal (rights on Kharg island in the Gulf) and relaying responses. In the Park Hotel I learned about bogus Scotch, the bottle drained through a minute hole, and the savor of karski, half a tiny roasted lamb accompanied by Beluga caviar served by the ladleful.
The 'Teheran Team' from left to right: Palmer, Sander, Zoerb, Sarijan (Local Office Manager) Maybud (Intermediary) The statue holds a spear and wears a skirt and a helmet resembling vaguely a pickelhaube. If somebody knows who he is, please tell me. The arch over the stairway is, I believe, called the "Arco de Cuchilleros." A cuchillo is a knife but the ending 'eros' might mean knife sellers (cutlerymen) or perhaps more likely, 'dagger wielders.' In the Plaza Mayor the equestrian statue in the distance is of Philip II, the king who built the Escorial, his grandiose but forbidding home during his final years.The castle in Segovia, the Alcazar, was used as a backdrop in a Disney movie. It was built in the twelth century.
During our stay in Madrid Mr. Dohm wanted to me to come to Paris to meet Mr. McCollum, the President of Continental Oil. I decided to bring Georgia. We drove north very fast, stopping at Poitiers overnight.. The next morning we met Chris at Orly and took him to the Hotel George Cinq. The speed cost me a new set of tires because the road between the French border and Bordeaux was still largely cobblestones. Shortly after this trip management decided to enlarge the operation when it moved to Paris. I was told to find another assistant and, after interviewing him in Madrid, hired Mr John Tolleson, who spoke good French. The report on Spain was finished in just over a year. Its conclusions were that prospects of finding large oil reserves were slim, but it reviewed the more prospective onshore tracts. The offshore was not discussed. Tolleson went to Paris to find temporary quarters for the office. He chose a suite on the sixth floor of the Hotel Scribe which had two bedrooms attached to a large salon. We set up shop and began work, contacting friends in the Institut Français du Pétrole for guidance in sources of information. But I had a long leave coming and took it in the States, driving the Jaguar to the west coast and back to New York where I turned it in against the delivery of another in London. This time we flew the new car across the Channel to Le Touquet.
We were to remain in Paris for three years. The office was on the ground floor of a new building at 2 Rue Bellini in the 16th arondissement not far from the apartment formerly occupied by Brigitte Bardot but now owned by M. Henri de Cizancourt, a noted geophysicist, whose wife I had met while studying Nummulites at the Sorbonne, for she was an authority on these large foraminifera. Mr. Frederick Penniman, a vice-president of Conorada, occupied one room. We had a secretary, a Mlle. Sanz, and an office manager, Roger, whose last name has escaped my memory. I was aided for varying periods by Dick Zoerb, John Tolleson, Jean-Pierre Jaccard (a Swiss) and a promising young man, David Lipton from New York. He died suddenly of cerebral meningitis, acquired perhaps in Morocco. He had journeyed there with Cal Coffield, an old Aramco hand, one of the honor graduates of my school for newly-arrived geologists in Saudi Arabia, then employed by Conorada. We were all given cortisone shots, had our throats swabbed, and put under observation after Mr. Lipton's sudden demise one weekend. I was able to persuade Mlle. Genevieve Cochet to work as draftman. She had skills far exceeding those required for our work, as I had learned during the trauma of the soutenance.
During the three years, apart from vacations, one year to Normandy and the Low Countries and the next to Germany and Switzerland, I left Paris twice on visits to North Africa. Conorada had acquired concessions there.. I worked briefly on assignment in Tunisia. During a trip to the field there, the party, including Ben Uhl who had succeeded Chris Dohm as president of Conorada, was stopped several times at road blocks manned by Algerian rebels against French authority. At one such halt a submachine gun was pointed at my midriff. During this trip Georgia remained in Tunis where she made friends with the wife of an Australian geologist, Ian McPhee, then working for the company. I acted as guru about the oil business for the local press during the time necessary to set up a small laboratory in town.
The long stay in Paris was a delight for Georgia. She was home again. We found a welcoming apartment in a small three-story house at 26 Rue Nicolo in the 16th arondissement. Aurora Noval Noriega came to us as maid and soon became an indispensable part of the household. She stayed with us through thick and thin until we left Europe in 1962. I made slides of all our peregrinations. Here are few around the Place de la Concorde in Paris. The fountain in the Place with the yellow balloons in the background was snapped in 1945 soon after VE day when a race amused the public.
Reports on Morocco, the Tindouf basin, Mauritania, Tunisia and the Spanish Sahara were completed during my stay in Paris. When I was loaned to the Oasis Oil Company of Libya (owned by the same three companies that had set up Conorada) to improve its laboratory facilities I was still working on Algeria. The time to report in Tripoli approached. Jaccard was charged with completing the study of that vast country. I had finished a review of the northern less prospective part only. Late in January 1960 we set out from Paris in the second Jaguar purchased during a three-month's leave in the states just after our settling down in the Ville lumière . Aurora was in the back seat surrounded by baggage. At Marseilles we boarded the Ville d'Oran for Tunis then drove south through Sfax and Gabès to the Libyan border but were refused entrance. We went back to Jerba island and called Tripoli. The next day at noon we passed the frontier post and that afternoon reached the town.
The two-year stay in Libya was a trying time for all of us. Housing was poor, air-conditioning out of the question because of the shortage of electricity, the summer climate humid, hot and ennervating, the selection of food restricted, its quality questionable. The people were unwelcoming, some actually hostile, including a select few of the employees of Oasis itself: those who found my strict observance of scientific method a challenge to their prestige. At work I managed to bring improvements in method and accuracy. I hired three micropaleontologists, one of whom became a world authority in later years. I prepared a manual for well-site geologists with illustrations of some of the microfossils that could serve to determine stratigraphic sequence and wrote several short papers on problems in correlation. The opposition to and criticism of my methods and work never ceased, but the Chief Geologist, Bruce Shade, backed my reforms and position.
Because of a contaminated water supply in the house, Georgia caught hepatitis and spent six months in bed. She was gravely ill. The doctor was about to feed her intravenously after a month of fasting during which she lost but little weight when she at last managed to keep something down. Aurora was the key that made it possible for me to continue work, for she nursed my wife with great devotion and kept the house in order. After Georgia recovered we had several guests, among them Maurice Kamen-Kaye, a geologist of note, whom we took to two of the numerous coastal sites of Roman ruins in Libya: Sabratha and Leptis Magna. Here are a few of the snaps I took on these and other visits.
We left Libya gladly knowing that we were to return to the States. After driving to Tunis and spending a few days with Georgia's father in Nice we went to Madrid by way of Barcelona and Valencia. There we left Aurora and Polo. Polo found a new home in the suburbs with one of Franco's doctors whose five-year-old daughter was enchanted with him. Aurora presented her fiancé, a waiter, and we met her mother. Her son had moved to England where we went to look around and to have the car checked over before shipping it to New York from Rotterdam on the Holland-America line ship that we ourselves took. While in Madrid we purchased from Paco Gonzalez Aja, our friend the doctor, a property in the mountains near the village of Matalpino where we planned to build our home for retirement. Paco's brother-in-law would be the contractor.

Top
Page 1
Page 2
Page 3
Page 4
Page 6