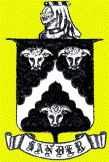 The flight to NewYork was by Pan-American flying boat The trip took nineteen hours. It was the best ride on an airplane that I have ever had. We flew low and slow over Greenland so I was able to film the landscape with the Bolex. The seats were large and reclinable, with plenty of space for less than thirty, with two trained nurses and a steward to wait on us. We had a berth with curtains that shut out the light of the sunset that took three hours to complete. It was the only time in my travels aloft that we could have breakfast cooked to order. I had ham with eggs over easy.
In New York we found a furnished apartment not far from the company quarters at 505 Park Avenue, a building built for rapid obsolescence. The space on the twelth floor allotted the laboratory was satisfactory and I had a separate office. It took time to select and order equipment and furniture for the lab, and in a small closet at the entrance I set up a tiny darkroom which soon proved indispensable. To photograph fossils and the polished surfaces and plastic-impregnated thin-sections of rocks in color I needed a light source whose color temperature was uniform and compatible with that of color film. Filament lamps were neither. The answer was zirconium arcs made by Western Union with a color temperature of 3200°K. I beefed up my photomicrographic setup with these arcs and was in business.
I worked in New York until 1 February 1955. During that time I met other paleontologists at the American Museum of Natural History and wrote two papers for publication as well as finishing an illustrated catalog of Arabian carbonate reservoir rocks. After a year I returned to Saudi Arabia alone for two months to help the structure-drill people set up a new system of markers. The old ones disappeared northward as the Paleogene sea deepened.

The photo shows us at the door of the "garden apartment" in Hartsdale. We were here from late in 1952 to February 1955. You see how fat I was. Taking salt tablets and drinking lots of water in Arabia combined with a sluggish thryroid gland put on pounds. An endocrinologist in Rome gave me a diet ó five meals of protein a day plus thyroxine pills. I went from a high of 287 pounds to 212 in five months without discomfort or exercise.
.
We lived better in the Hartsdale apartment. It was a twenty-eight minute commute from Grand Central on the White Plains line. There Georgia could live more comfortably with our own furniture, although the amenities of New York,large department stores and shops, as well as concerts and theaters were now a long trip away. She didn't feel well, but the doctors found no serious problem, although they recommended a diet and certain strengtheners that she took religiously. When I returned from Arabia I promised never to leave her so long again. We went on two vacations: one in the Fall to Canada and New England where we ran into a hurricane near Skowhegan, the other the following Winter to California where we visited my mother and toured the northern part of the state and Yosemite valley. Click on the photo to see four pictures made on those trips.
So when the company again asked me to return to Arabia , this time for three months, I said that I wanted Georgia to accompany me. Several families in Arabia offered to put her up while I was in the field. I offered to pay her fare on the company plane or on commercial transportation. All was refused. On 1 February 1955 I resigned, although just named Assistant Chief Geologist.
But I didn't quit without a parachute. Often on the morning commuter train I sat with Chris Dohm, then President of the Conorada Petroleum Corporation, an exploration venture set up by the Ohio Oil Co. (now Marathon) Continental Oil, and Amerada to look for oil, with the main area of interest the Mediterranean basin. I had told him of my difficulties and he offered me a job in Europe, at a salary not much less than my current stipend. It would be new to me: evaluation of the petroleum prospects of the countries around the Mediterranean. When ARAMCO proved immutable, I accepted the job.

Our only concern was finding Thunder a home before leaving for Italy. He was the German Shepherd that Georgia had adopted, and found to be not only a friend but a guard. A man with beach frontage on Long Island Sound agreed to take him. The parting was hard. However, I looked forward both to the new job and to driving the 1955 Jaguar that I purchased in New York for delivery in London. It cost less than the $5000 in cash that I took to the agency.

We flew to London, took delivery of the car and were chauffeured out of the city and its immediate suburbs. When at last I took the wheel I felt exhilarated and pleased at driving such a comfortable and responsive sedan. As we would be in Europe steering was on the left, so I drove very cautiously to Folkestone where we to took the ferry to Calais shortly after 10 PM. When we drove off the pier at Calais it was nealy three, but we decided to go on to Paris before stopping. In sight of the Eiffel tower I felt so sleepy that we pulled off the road and dozed for two hours before reviving enough to enter town. We put up at a place new to us: the Hôtel-Résidence Lord Byron, just a block off the Champs Elysées. It became a favorite stopping place in our later visits.

Three days later we arrived in Rome at two AM. The last few miles under a full moon with the umbrella pines in silhouette were a new experience, Georgia asleep at my side. We stayed at the Hotel Flora at the head of the Via Veneto next to the Pincio Gardens for several weeks while looking for an apartment. We finally chose Via Tor de Quinto No.18. It was a relatively new building on a bluff across the Tiber which we crossed on the Roman-built Ponte Milvio. The apartment on the fifth floor had been occupied by a well-known author, recently deceased. It was inconvenient for reaching the offices of the government Ufficio Geologico and the library downtown, but we had a garage in the basement. The apartment itself was comfortably furnished, ornate with wood paneling and marble bathrooms. But we found the travertine floors noisy, particularly when the high-heeled occupants of the floor above returned at three in the morning.

The author had built a glass-walled study that became my office. For six weeks I studied cards with Italian scientific terms and their translations written on them, gleaned from geologic books and articles. Then I began to read and compile data from every publication I could buy or borrow. Professor Lipparini of the Ufficio was useful. I paid him to gather data for me. Later I found a graduate student, Augusto Cortesini Finali, to help. In return I showed him how to make plastic 'peels' of carbonate rocks a technique he needed in preparing his doctoral thesis on the Cretaceous of the central Apennines. I saw him years later in New York and again in Jedda. Pat Walsh of the American Embassy typed, and a draftsman prepared rather primitive illustrations. At the end of a year my report was completed and sent to New York. Italy was not very promising because the best area, the Po valley and part of its offshore, was held by AGIP, the state-owned oil company.

But it wasn't all work. We spent every Sunday and holiday sightseeing. In a year we visited many of the better-known museums, churches, fountains and ruins of Rome as well as the Villa d'Este with its fountains, Hadrian's Villa with its ancient cypresses, Ovieto and its cathedral façade, and other places of interest. We made a command performance trip across the mountains to Bari and back to Rome through Naples. All of this in the Jaguar with big-shot passengers. Chris Dohm came to Rome with his family, combining business concerning a concession in Albania with vacation. I made movies of some sites and took many color photos . Here are seven more

We left Rome late in January 1956 and drove north. It was cold and gloomy but we stayed overnight in Pisa with a room overlooking the deep green, fast-flowing Arno. After the obligatory visit to the tower and Baptistry we went on to Nice to visit Georgia's father. After a short stay there we started west to Spain. Much to our surprise it began to snow, and rounding a curve in the hills about fifteen kilometers from Luc en Provence the car slipped sideways on ice buried under the snow and slid into the other lane of traffic.

A car was approaching from the other direction, but it was a long way off. I sounded the horn, but the other car came on. The gear-box of the front-drive Citroën smashed against the right side of our front bumper and broke it off, then crumpled the right fender. The shock of the impact caused Georgia's head to hit the wooden dashboard. I, gripping the wheel, had no injury. One of the occupants of the other car said that he had sprained his thumb. The thumb became a cause célèbre in the suit for more damages which he filed months later. Our friend Olivier Loubeyre settled both claims. In the second, the judge scolded the greedy litigant for his attempted extortion.

After waiting three hours for the gendarmes to appear and make their contestation we drove on to Le Luc where the good hotel was booked solid by people who because of the snow planned to take the morning train to Paris. We ended up on the top floor of a run down lodging house without a restaurant. Supperless to bed and in a room with water frozen in the wash basin, we spent a miserable night during which, in a search for the bathroom, I fell on the stairs because I had short-circuited the entire establishment trying to connect our electric blanket. My forehead was cut and my ankle twisted. The next day we rested in the good hotel and visited a physician before starting again for Spain. That night we stayed in an inn just south of Barcelona. This was another experience, our first in Spain. When we walked into the mustard-colored, sparsely furnished reception hall conversation ceased and we became truly the 'cynosure of all eyes.' I believe the mattress was stuffed with corn husks, judging from the rustling, but the food was good.

Top
Page 1
Page 2
Page 3
Page 5
Page 6